Meaningful Play 2014 includes thought-provoking presentations from leaders in academia and industry, peer-reviewed paper presentations, panel sessions (including academic and industry discussions), innovative workshops, roundtable discussions, and exhibitions of games.
Confirmed speakers include...

Jesse Schell is the CEO of Schell Games, a leader in creating transformational games. Since starting his company in 2002, he has grown it into the largest and most successful game development company in Pennsylvania. Under his leadership, Schell Games has produced an amazing array of innovative, transformational and award-winning entertainment experiences for some of the world's most respected brands, such as Disney, SeaWorld Parks and Entertainment, Amplify, Yale University, Lionel LLC and The Fred Rogers Company.
Jesse currently serves as Distinguished Professor of Entertainment Technology at Carnegie Mellon University's Entertainment Technology Center (ETC), where he teaches game design. He authored the critically acclaimed book, The Art of Game Design: A Book of Lenses, which captured Game Developer magazine's coveted "Front Line Award" for 2008.
Prior to starting Schell Games, Jesse was the Creative Director of the Disney Imagineering Virtual Reality Studio, where he worked and played for seven years as designer, programmer, and manager on numerous projects for Disney theme parks and DisneyQuest. Learn more about Jesse.

Mia Consalvo is Professor and Canada Research Chair in Game Studies and Design at Concordia University in Montreal. She is the co-editor of Sports Videogames and author of Cheating: Gaining Advantage of Videogames. She is completing The Life of a Game with Jason Begy and has almost (!) finished a book about Japan's influence on the videogame industry and game culture.
Mia runs the mLab, a space dedicated to innovating methods for studying games and game players, at Concordia. She's presented her work at professional as well as academic conferences including regular presentations at the Game Developers Conference. She is the President of the Digital Games Research Association, and has held positions at MIT, Ohio University, Chubu University in Japan and the University of Wisconsin-Milwaukee. Learn more about Mia.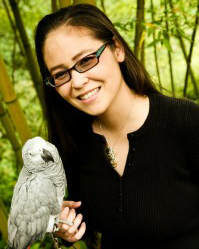 Erin Hoffman is an author and video game designer. Erin Hoffman was born in San Diego and now lives in northern California, where she works as Game Design Lead at the Institute of Play's GlassLab, a Bill and Melinda Gates and Macarthur Foundation supported three-year initiative to establish integrated formative assessment educational games. She is the author of the Chaos Knight series from Pyr books, beginning with Sword of Fire and Sea, followed by Lance of Earth and Sky in April 2012 and concluding with Shield of Sea and Space in 2013.
Her video game credits include DragonRealms, Shadowbane: The Lost Kingdom, GoPets: Vacation Island, Kung Fu Panda World, and FrontierVille. She writes for the award-winning online magazine The Escapist, and has had fiction and poetry in Asimov's Science Fiction, Electric Velocipede, Beneath Ceaseless Skies, and more. In 2004 her blog on game industry working conditions, "ea_spouse", was covered by the New York Times, Wall Street Journal, and LA Times, and is now referenced in numerous game history and corporate history studies.
Erin's games have won multiple awards and have been played by millions of kids and adults worldwide. She is multiethnic, with family names including Lee, Asakawa (yonsei), and Drake in addition to Hoffman.

Jan Sircus is Past-President of the Themed Attraction Association, Canada, and Principal of Studio Sircus, a creative consultancy for innovative media projects and story place making. Prior to Studio Sircus, Jan was co-founder and Managing Director Creative of Maple Leaf Studios (MLS), Vancouver. At MLS, Jan led master planning and design for the successful Sochi 2014 Winter Olympics Bid Resort and Village in Sochi, Russia. He was also creative lead for final round competition concept bids for BC Canada Place at the Beijing 2008 Olympics, and for the 'City Being' main theme pavilion and the GM-SAIC pavilion for the 2010 Shanghai World Expo. Shortly thereafter, Jan was Creative Director for Aldrich Pears Associates for the site wide interpretive exhibits design of the Al Ain Wildlife Park and Resort in Abu Dhabi. Recently, Jan provided creative concept and design consulting for Soaring Attractions and their 'Flyover Canada', an OmniMax-scale 'immersive film simulator ride' at Canada Place, Vancouver. He is currently providing similar consultation to a major museum in the US whilst pursuing 'Arts Vista', a city-based arts event preview site that he founded and launched earlier this year – artsvista.com
Before MLS, Jan led Lunny International's planning, design, and content development for numerous high-profile projects, including master planning for the Calgary Exhibition & Stampede in Alberta, Canada, the 'Ancient Worlds' resort and theme park in Dubailand, Dubai, and the China Western Movie Resort and Theme Park in Xian, China. Jan was creative director for the BC Canada Place in Torino, Italy, for the 2006 Winter Olympics, and co-creative director for the Canada Pavilion at Expo 2005 in Aichi, Japan.
During 25 years in Los Angeles, Jan was a Senior VP, Creative Development for Walt Disney Imagineering, leading major international Theme Park projects and heading up Location-Based Entertainment (LBE) design. Jan had Executive Producer and/or Creative Director roles on such major themed attractions as Disney Studios Paris, and Disneyland Hong Kong. His LBE concepts included DisneyQuest, Club Disney, and Flagship Stores for Las Vegas and New York's 5th Avenue.
Jan was on the Piano + Rogers architectural design team of the Centre Pompidou. As an early adopter of interactive media, Jan created pioneering and award-winning media projects for the J. Paul Getty Museum and NASA. He also worked with the Warner Brothers Record Group, developing pilot programs for the CD-I platform. Originally from the UK, Jan holds a Master's degree in Architecture and has taught design at UCLA and the Southern California Institute of Architecture.

Colleen Macklin is the Director of PETLab (Prototyping Education and Technology Lab) and Associate Professor at Parsons The New School for Design. Colleen develops games for experimental learning and social engagement. PETLab projects include a curriculum in game design for the Boys and Girls Club, a set of statistical games for the Red Cross Climate Centre, and big games such as Re:Activism and the "fiscal" sport Budgetball. She is a member of the game design collectives Local No. 12, known for their card game the Metagame and The Leisure Collective. Her work has been shown at Come Out and Play, SoundLab, The Whitney Museum for American Art and Creative Time. BFA, Media Arts Pratt Institute, graduate studies in Computer Science, CUNY and International Affairs, The New School. Learn more about Colleen.

Deirdra Kiai is a game designer, writer, programmer, musician, and visual artist. Deidra was nominated for four awards at this year's Independent Games Association awards. Their game, Dominique Pamplemousse in "It's All Over Once The Fat Lady Sings!" is a stop motion musical detective adventure game. Their #1ReasonToBe a game designer talk, "Making games is easy. Belonging is hard." received a standing ovation at the Game Developers' Conference last month. Learn more about Deirdra.

Lisa Nakamura is an acclaimed cultural critic of visual representations and mechanics of race, gender, and sexuality in gaming culture, digital media, and transmedia. She is the Gwendolyn Calvert Baker Collegiate Professor in the American Cultures Department and Screen Arts Department at the University of Michigan, Ann Arbor.
The author of four books, numerous academic journal and popular press pieces, hew work includes game-related titles such as:
Pregnant Sims: Avatars and the Visual Culture of Motherhood on the Web Flag as Inappropriate: Neglected Discourses of Racism, Sexism, and Homophobia in Online Games
Queer Female of Color: The Highest Difficulty Setting There Is? Gaming Rhetoric as Gender Capital.
Don't Hate the Player, Hate the Game: The Racialization of Labor in World of Warcraft
Griefing Culture and Incivility on the Internet
All the Work without the Worker: Racial Microaggression and the New Orientalism in World of Warcraft
Digital Gaming, Racial and Ethnic Identity, and Social Justice
Her insightful analyses help make the invisible visible.

Megan Gaiser, as one of the first female CEO's in the gaming industry, spent the last 15 years experiencing the game industry as both an insider, and an outsider. This unique vantage point enabled her to not only sidestep the outdated habits of the game industry, but to create and capture the markets that had been left behind. As CEO of HerInteractive, she gained a reputation for identifying and engaging unproven markets, inspiring collaboration and a commitment to the highest artistic and aesthetic qualities. In partnership with her team, Megan was responsible for breathing life into Her Interactive by co-creating intelligent games for girls and women. Dubbed by the NYT as 'The UnBarbie' of computer games, Gaiser grew the company to $8.5M in revenues by co-creating the highly successful and award-winning game franchise based on the Nancy Drew mystery book series.
She recently formed Contagious Creativity to foster more diversity in both the content and leadership of the industry. Her reputation led to her being named among "Game Industry's 100 Most Influential Women" by Next Generation; "Top 10 Most Influential Women of the Decade" by Gaming Angels;" "2011 Indie Cade Trailblazer Award for Lifetime Achievement"; 15 Cine Golden Eagle awards, three New York festival awards, and the International Documentary Milano Award.
More details coming on the complete program.